Education:
B.S. Microbiology, Ondo State University, Nigeria 1989-1994
M.S. Microbiology, University of Ibadan, Nigeria 1995-1997
Ph.D. Microbiology, University of Ibadan, Nigeria 1997-2003
Post-Doctoral, Institute of Food Research, Norwich, United Kingdom
Professional Experience:
Dr. Folarin Oguntoyinbo joined the A.R. Smith Department of Chemistry and Fermentation Sciences, Appalachian State University from the University of Lagos, Nigeria where he worked as Professor of Food Microbiology.
He attended the 2005 microbial diversity course of the Marine Biological laboratory, Woods Hole, MA.
He was a Georg Forster Experienced Researcher of the Alexander von Humboldt at the Max Rubner-Institut, Institut für Microbiologie und Biotechnologie, Kiel, Germany as well as Newton International Fellow of the Royal Society, UK at the Institute of Food Research, Norwich, UK, now Quadram Institute Bioscience.
Also, he is a previous visiting guest researcher at the Center for Food Safety and Applied Nutrition, FDA, Maryland, USA.
He is the recipient of 2016 Food Safety Award for a Professional in a Country with Developing Economy of the International Association for Food Protection (IAFP), St. Louis, Missouri.
He is an active member of Society for Applied Microbiology (SfAM) United Kingdom and American Society for Microbiology (ASM).
Research/Interests:
His research focuses on the molecular microbial ecology of fermented foods and beverages, the biochemical changes, sensory attributes and process optimization. This is aimed at provision of safe foods, improved quality and organoleptic properties through linkage of the microbiome in fermented foods with their metabolic signatures. In addition, he is testing hypotheses that can support industrial fermentation systems by maximizing microbial in situgrowth dynamics, kinetics and functional properties. His research frontiers will continue to address unanswered questions on development of multifunctional starter cultures for North Carolina industrial fermented foods and beverages processing, agricultural postharvest value addition, reduction of food waste, improvement of nutritional intake and gastrointestinal health.
Dr. Oguntoyinbo's teachings include Traditional Fermented Foods and Beverages, Reading and Writing in Fermentation Sciences, Social Implications of Fermented Beverages and Fermentation Microbiology.
Selected Publications:
Akinyemi, M.O., Ayeni, K.I., Ogunremi, O.R., Adeleke R.A., Oguntoyinbo F.A., Warth, B., Ezekiel, C.N. (2021) A review of microbes and chemical contaminants in dairy products in sub-Saharan Africa. Comprehensive Reviews in Food Science and Food Safety /doi/full/10.1111/1541-4337.12712.
Fagbemigun, O., Gyu-Sung Cho, G., Rösch, N., Brinks, E., Schrader, K., Bockelmann, W., Oguntoyinbo, F.A., Franz, C.M.A.P (2021) Isolation and Characterization of Potential Starter Cultures from the Nigerian Fermented Milk Product nono Microorganisms, 2021, 9, 640.
Osopale, B. A., Adewumi, G. A., Witthuhn, R. C., Kuloyo, O.O., Oguntoyinbo, F. A. (2019) A review of innovative techniques for rapid detection and enrichment of Alicyclobacillus during industrial processing of fruit juices and concentrates Food Control 99,146-157.
Diaz, M., Lee Kellingray, Nwanneka Akinyemi, Oyetayo Olaoluwa Adefiranye, Arinola B Olaonipekun, Geoffroy Romaric Bayili, Jekwu Ibezim, Adriana Salomina du Plessis, Marcel Houngbédji, Deus Kamya, Ivan Muzira Mukisa, Guesh Mulaw, Samuel Manthi Josiah, William Onyango Chienjo, Amy Atter, Evans Agbemafle, Theophilus Annan, Nina Bernice Ackah, Elna M Buys, D Joseph Hounhouigan, Charles Muyanja, Jesca Nakavuma, Damaris Achieng Odeny, Hagretou Sawadogo-Lingani, Anteneh Tesfaye Tefera, Wisdom Amoa-Awua, Mary Obodai, Melinda J Mayer, Oguntoyinbo, F. A. Arjan Narbad (2019) Comparison of the microbial composition of African fermented foods using amplicon sequencing. Scientific Reports 9, 1-8.
Oguntoyinbo, F. A. Cho, G., Cnockaert M., Kabisch, J., Neve, H., Bockelmann, W., Wenning, M., Franz CMAP., Vandamme, P. (2018) Halomonas nigrificans sp. nov., isolated from cheese. International Journal of Systematic and Evolutionary Microbiology 68, 371-376.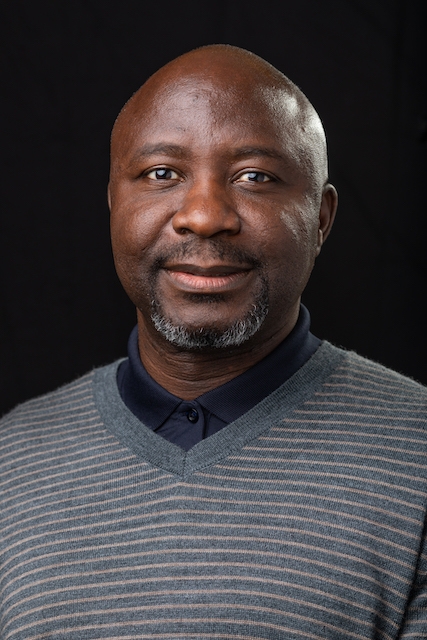 Title:

Associate Professor, Research Mentor

Email address: Email me

Phone: (828) 262-8345
Office address
East Hall 373