Giving to the Department of Chemistry and Fermentation Sciences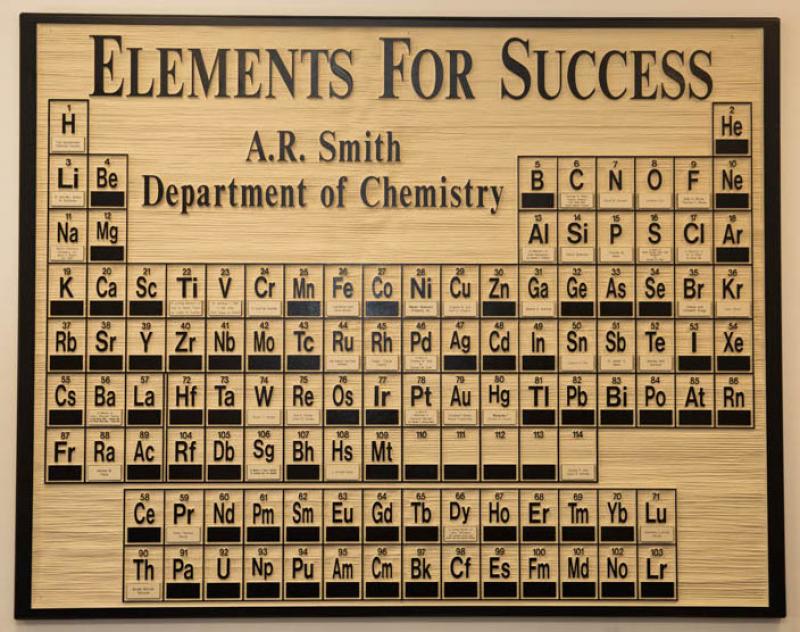 The A. R. Smith Department of Chemistry and Fermentation Sciences at Appalachian offers you a unique opportunity to invest in the education of our students. Your gift to our department endowment will allow you to own your favorite chemical element and have your name be part of a special periodic table that is displayed in the Kathryn Smith Cheek Meeting Room in the Garwood Hall Science Building. This periodic table honors those friends of the department who have helped us in achieving our educational mission, so we call these special friends our Elements for Success.
Download the Elements for Success flyer and pledge card.
Each year the Department of Chemistry and Fermentation Sciences Endowment enables us to supplement state funding levels and extend support to various aspects of our program which we have come to view as essential features. We believe that these features of our program give our students something extra, an advantage they take with them as they become practicing chemists or enter graduate or professional schools. We want to continue to provide these extras which make our program special to our students, and we want to expand those features to include some extras that our state funding just will not allow. The list of needs continues to grow much faster than our funding resources, and if we are to be able to expand these essential features of our program, our endowment simply has to grow.
For these reasons, we have launched the Elements for Success campaign. We believe that your investment in the department and our programs will be the stepping stone which will enable our students to participate in the second century of Appalachian's growth with the preparation, experience, support, and enthusiasm that you, too, had as you began your successful and rewarding career.
We think this is a unique opportunity for you to become a building block for our department and a chance to have your donation transformed, just like the elements, into opportunities and experiences that will compound your support in very real and enduring ways. If you have questions or wish additional information please contact Petia Bobadova, Chair, Department of Chemistry and Fermentation Sciences, by telephone at (828) 262-3010 or by e-mail at bobadovap@appstate.edu.
You can also give to the Department via the Give Now website. Be sure to designate your gift to the Chemistry and Fermentation Sciences Department in the College of Arts and Sciences.